Security Guards; what do they actually do all day?
Guarding, serving people and theft protection are the main duties of a security guard. While working on a number of duties such as inspecting properties and patrolling, they also provide services like guarding against fire, break-ins, criminal activities and terrorism. Security guards are mostly the first person to be on the scene and to defend the employer's property by defusing criminal situations if it takes place. Guards assure that law is properly enforced where he is doing his job, whether he is in business organization or safeguarding any property. Proper security training and day to day practices are the starting points to become a good future guard.
A Typical day duty
Security officers spend their shifts using communication devices like a radio or telephone that are always ready to make a call for assistance in any case of emergency such as fire incident, theft, medical issues etc. Any incidents happened during the shifts of a security guard are properly recorded in a log book or printed in a documented form stating the highlights of that incident based on the observation done by the guard. In some specific incidents, the security guard might need to testify in a courtroom or even interview witnesses.
Even though the profession of a security guard is defined and described in basic terms, the responsibilities of a security guard may differs according to the size and location of the organisation and may depends on the need to organisation. These services may be expected to be done on regular basis. The assortment of the tasks is generally addressed during guard card training and at the time of his appointment. Recently many shopping centres and theatres are employing protection team to monitor the parking lots to protect their customers from stealing incidents. On the other hand in departmental stores, a security officer may aid in protecting cash registers or deposits and in apprehending shoplifters.
The security officers are trusted in protecting a property by using various kinds of technological help in their job. They monitor closed circuit television cameras or even stroll around the property at various times to keep any eye over criminal activities. Guards should be aware of all the frequent guests and members of the premises so that they can stop the trans-passers who do not belong to that property. Similar thing is also expected from the guards working in a court, medical centres or any other important areas where entry is restricted; this is required to check out inbound people and to stop criminal activities. Other things that most of the guards performs in their day to day activities is the use of metal detectors and other devices so as to examine site visitors for checking of guns, explosives and other fatal things.
Understanding the job
Each and every security guard before starting a job has to go through a security officer training program for a minimum specific period of time to get a proper understanding of the work. The employment of only licensed security guards is mandatory in many states. Other requirements and specifications like in-class training, age requirement above 18, drug test reports and records for criminal background are also checked before employing as a guard. The guard card training will help the guard to know about property rights, tackling crisis situation, proper way to maintain custody of a suspect, etc.
In states that do not require such a mandatory and extensive security training program, the employers of the guards ensures that each of the security guard is brought up to the speed, and should be able to perform well on the job. Several firms who hire untrained and unarmed guards who don't have any precise education prerequisites, in such cases appoints a bachelor's degree or higher degree candidate. In case of armed guards, a person must possess a verified license to hold such arms and should also have a great work background. The guns possessed by the guards on the job should also be registered and certified by the government. The guards with all the proper certification also get more responsibility on the job and also provided with a higher pay.
For those who want to start their job as a guard must begin with the security guard training and can also expect to undergo a criminal record background check and fingerprint check along with other requirements. Job seekers who have a decent character referral and are in good physical shape are more likely to get the job. The security company usually provide specialized security guard training to the new incoming security guards candidate so that they could perform to their best level on the job. This training program also includes communications, first aid, crisis prevention, log book writing, etc.
Occupational safety and health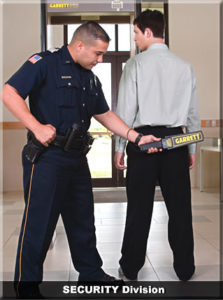 Security guards usually work in 4-5 days shift in a week for 8-13 hours in a single day. During each shift, the majority of security guards spend considerable amount of time on their feet as they keep patrolling the area while others security guards may have the duty to monitor CCTV cameras sitting in an enclosed controlling room. Guards have to be always ready to tackle any dangerous situation if it may arise, as it is a part of their routine job. Guards observing the CCTV cameras from the controlling station must be able to identify any possible threat and should also be able to identify different people entering the property along with any dangerous equipment that they might have with themselves. A good communication system or devices such as radio or ear phones should also be available with the guards observing the cameras footage and with the guard who is patrolling the premises, so that in any case of any emergency guards will be able to handle it more efficiently with proper communication between them without any damages.
For a successful career as a security guard, an individual must take the guard training classes. When a new job is available, the person should get all the required forms ready along with the background check to get his or her desired job.